Monthly Archives:
Aug 2014
NATUURRESERVAAT. Hierdie vakansiedorp se gebande muishondjies, party ouens op Leeupoort noem hulle ook meerkatte, het hul eie gewoontes. Hulle maak fyn piep geluide sodat hulle in hoorafstand van mekaar kan bly. Hierdie wilde diertjies is bruin met strepe dwars oor hulle rue.
Hulle leef saam in `n kolonie en die hele groep beweeg die heel dag as `n groep saam. Die diertjies slaap in gate in die grond wat effe groter is as muisgate. Hulle ondertrou nie- `n natuurwonder . Hulle is op `n jaar geslagsryp en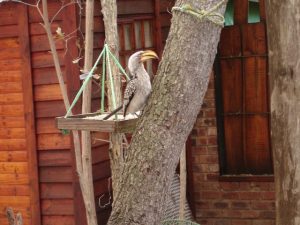 NATURE RESERVE – The Southern Yellow-billed Hornbill is a Hornbill found at Leeupoort Holiday Town in southern Africa and also most other part in Southern Africa. It is a medium sized bird, with length between 48 to 60 cm
They feed mainly on the ground, where they forage for seeds, small insects, spiders and scorpions. Termites and ants are a preferred food source in the dry season. At Leeupoort they even eat bread and maize porridge, however bread is not a recommended food source for birds.